This quick Outriders farm will turn a starting weapon into an endgame monster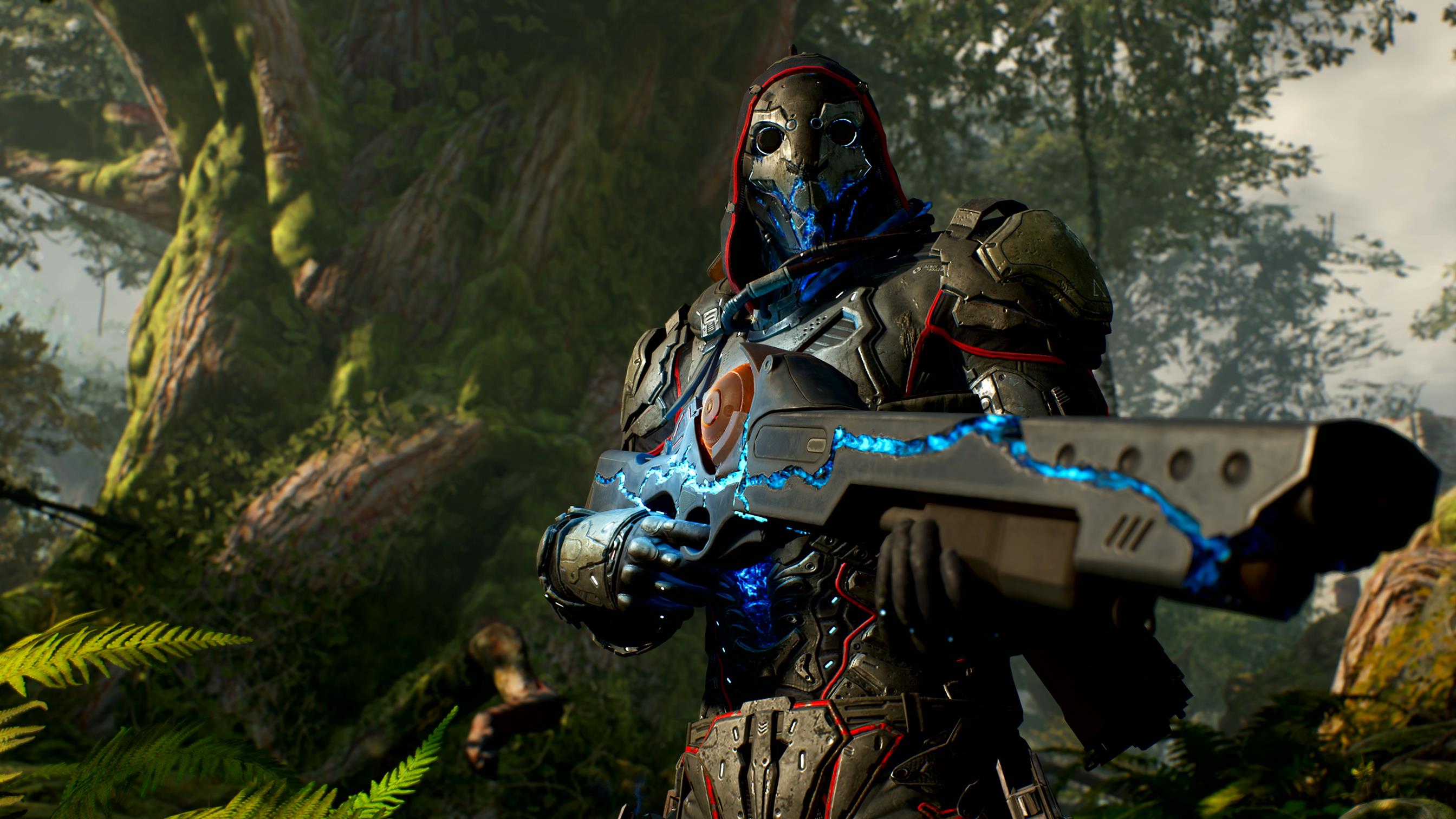 Outriders players have discovered an even faster way to farm good assault rifles.
Since the release of Outriders, players have been coming up with more and more efficient ways to farm weapons and gear. We've been learning from the community ourselves, as you may have seen in our Outriders Legendary weapon farm guide.
But one new trick in particular caught our attention for just how fast it is compared to your usual farm methods.
Outriders players have discovered an even faster way to farm Epic assault rifles
This one relies on one of the weapons pre-order players received in the Hell's Rangers DLC pack. Most players who bought Outriders at launch should have this pack by default.
It includes a full armour set, and one of each weapon type in the game, all with unique skins. You can equip the pack's various items at level 10. Beyond aesthetics, they come with some really useful mods. If you've been playing People Can Fly's loot shooter, you'll know that mods are everything in Outriders.
Unfortunately, many simply try out the DLC weapons when they become available and move on once they get better loot. This is in part because you can't deconstruct Hell's Rangers items, they're forever locked. But there's a way you can make them relevant in the endgame.
Twitch streamer Djtickle recently demonstrated how the Earthborn Renegade's Assault Rifle in particular can be a great endgame weapon. It won't be quite on the same level as a Legendary, but it's close. To get it there, you'll need a bit of luck, and some patience.
How to farm one of the best endgame burst assault rifles in Outriders
Let's begin by explaining why we're using the Earthborn Renegade's Assault Rifle specifically. For one, it's guaranteed to appear with the Bone Shrapnel mod. This mod's description reads, "Killing shots detonate the enemy's bones and turn them into shrapnel that deals damage and inflicts Bleed on enemies within a 5 meter radius."
The other main reason is that owners of the Hell's Rangers pack will always get these items with every new character created, meaning you can essentially try this method an infinite number of times.
What we're about to outline below works, but because of Outriders' inherent RNG, you won't always reach the same exact figures. You also can't control what attributes end up rolling on it. You'll find some combination of the usual Crit Damage, Status Power, Long Range Damage etc. Ideally, we'd like to have Short Range Damage, but it's not a deal-breaker.
This is why it helps to do this a few times until you get a good combination of attributes and a high enough starting stat. It's also worth keeping in mind that you'll always be able to slot any mod you prefer in the second slot.
So, without further ado, here's how to do it.
On your main character, open your Stash and claim the Earthborn Renegade's Assault Rifle from the Inbox - if you haven't already.
Start any Expedition at your highest available tier, and bring the Rare (blue) level 10 gun with you.
Get in, shoot an enemy and die.
After you abandon the Expedition, bring up the pause menu and Return to Lobby, then hit Continue to get back in.
When you return to your Stash, you'll be able to once again claim the same gun from your Inbox.
Repeat this process until you have a few. One of them will work as our base.
Go to Zahedi and get into the upgrade menu.
Now, pick one of the blue Earthborn Renegades, and swap its variant to burst (Tactical).
The Firepower stat should now change. We're looking for anything around 360. Keep trying the guns you pulled out of Stash - keeping in mind that you can only do this once per weapon.
Once you get a decent damage value, level up the weapon all the way to the highest level you can. Do not invest levelling resources into something with a low base damage value.
Upgrade the weapon's rarity to Epic (purple), and pick a second mod of your choice.
Assuming you started out with a high-enough damage value, you should end up with a powerful burst assault rifle. If you got lucky, you would just need to transfer any excess blue Earthborn Renegades back into your stash. If you have a lot of leftovers from your various tries, however, we'll need to dispose of all the blues to clear out your inventory.
Since you can't dismantle locked gear, we'll just need to create a new character. After transferring unwanted blues back to the Stash, create a new character and play until you reach the first hub area, where you'll get access to the Stash. You'll need to skip the prologue, pick your class and get through that initial fight.
All that's left to do now is transfer all the discarded blues from Stash to the inventory of your freshly created character. Head back to the character select screen and delete the new character and you're done.
If you did not pre-order Outriders, you can still purchase the Hell's Rangers DLC pack on Steam or your console's store, for $7. You can technically do this with other weapons, but you won't be able to guarantee the Bone Shrapnel mod.
Now that you have this almost-Legendary killing machine, you should take a few moments to optimise your build to create some synergy. See our Outriders character builds for a few ideas.
For more helpful guides like this, check out our Outriders guide, or these useful Outriders tips.