Dead by Daylight codes for September 2022: Free Bloodpoints and charms
Frighteningly good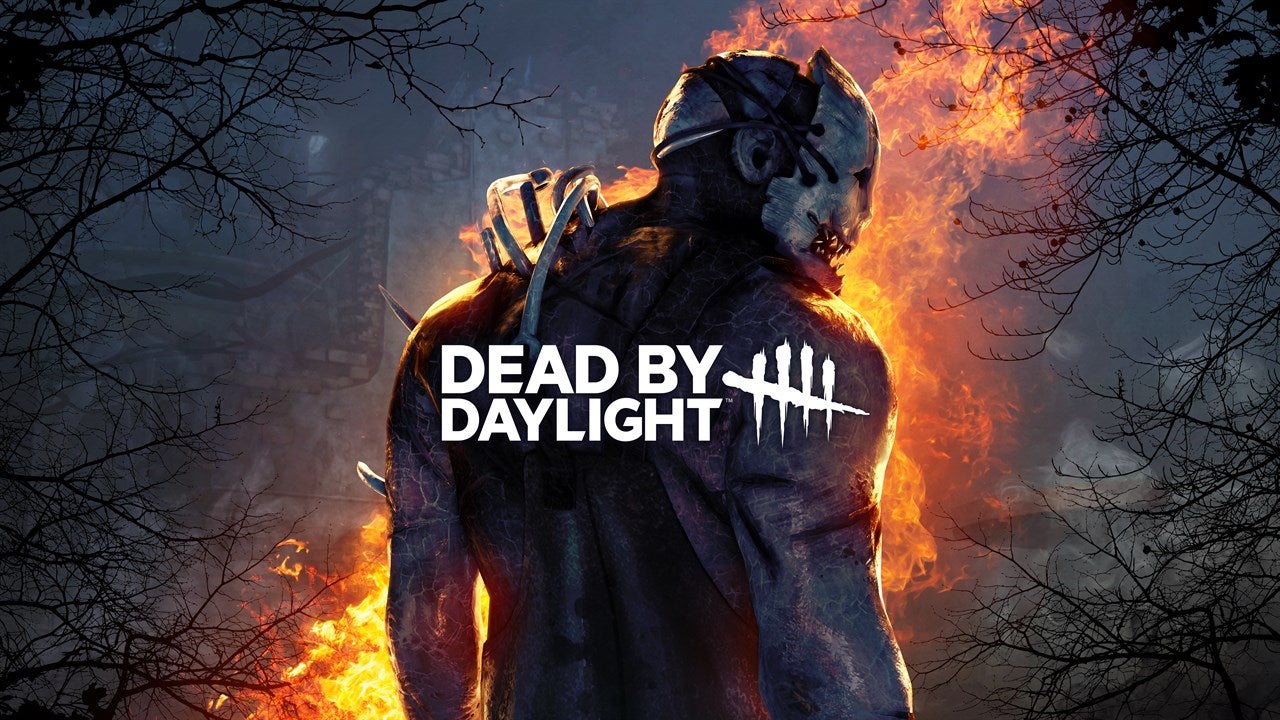 26th September, 2022: We checked for new codes.
Behaviour Interactive issues Dead by Daylight codes on a fairly regular basis, and that's a good thing. Dead by Daylight codes usually give you free Bloodpoints. You'll use these to unlock nodes on character Bloodwebs, which opens perk slots and more. The Bloodpoints they offer are perfect for building new characters and they work on every platform.
Behaviour often adds multiple new codes during special events and you can even get codes for cosmetics or charms too. Our list of DBD Codes will show you which ones are currently active in the game and exactly what you can get from them.
Watch on YouTube
---
Active Dead by Daylight codes
BILIBILI300K - 300,000 Bloodpoints
CAWCAW - Feathers of Pride charm
PRIDE2022 - Pride Charm
PRIDE - Rainbow Flag Pride Charm
NICE - 69 Bloodpoints
Most Dead By Daylight promos expire at the end of the month. However, some expire during rank reset, which takes place on the 13th of the month. We'll note which of those expire during rank reset where applicable.
Expired Dead by Daylight codes
These DBD codes no longer work. If you try inputting a code and get an error message, it's probably on this list.
ALIENWARE - 100,000 Bloodpoints
TWITCHRIVALSTW2022 - Free Rewards
BUBBLES - Killer of the Sea Charm
SHARKY - 10k Bloodpoints
TOOTHFACE - 10k Bloodpoints
FINN - 10k Bloodpoints
OCANADA - Maple Leaf Charm
CAKEWALK - 100,000 Bloodpoints
IGBPPARTY - 100,000 Bloodpoints
BLUEBIRDBEEG - 100,000 Bloodpoints
BLOODBANK - 100k Bloodpoints
GETTHATBAG - 10 Rift Fragments
DOUBLERAINBOW - 2OOk Bloodpoints
THANKYOU - 150K Bloodpoints
59th39 - 100K Bloodpoints
gigxlm3g - 100K Bloodpoints
78SNOXXG - 100K Bloodpoints
DBDTHEBOARDGAME - 200K Bloodpoints
RIVALSTH - 100k Bloodpoints
THISISACODE - 25,000 Bloodpoints
DBDWEBSITE - 25,000 Bloodpoints
CAISHEN - 88,888 blood points
LANTERNFESTIVAL - 15 rift fragments
LUCKYMONEY - 16,888 blood points
CIPHERSALAD - 150,000 Bloodpoints
HOLIDAYSPECIAL - 100,000 Bloodpoints
MORICHRISTMAS - 100,000 Bloodpoints
SEASONSBLEEDINGS - 100,000 Bloodpoints
HOHOHO - 100,000 Bloodpoints
DECIPHERSTRIKE - 150,000 Bloodpoints
INSERTCOIN - Arcade Machine charm
EASYASABC - 150,000 Bloodpoints
HENYANG - Ugly sweater for Adam
HOLIDAYFORMAL - Sweater for Felix
METATRON - Sweater for Cheryl
byebye2020 - Fruitcake charm for Killer
MNOGO - Sweater for Legion
FUKUHAUCHI - 100,000 Bloodpoints
TWITTERSMOL - 1 Bloodpoint
TWITTERLORGE - 100,000 Bloodpoints
happygoldenweek2021 - 30,000 Bloodpoints
KenpouKinenBi2021 - 40,000 Bloodpoints
midorinohi2021 - 60,000 Bloodpoints
KodomonoHi2021 - 50,000 Bloodpoints
ANNIVERSARYFRAGMENTS - 10 Rift Fragments
AD800947-01A7-4DEF-81AD-40DDC501DE50 - 250,000 Bloodpoints and 1,000 Iridescent Shards
RANKROULETTE - 250,000 Bloodpoints
DWIGHTCROW - Scarecrow Dwight charm
FORHONOR - Redeem for For Honor's Charm
LIVEORDIE - Charm
Prime Gaming Dead by Daylight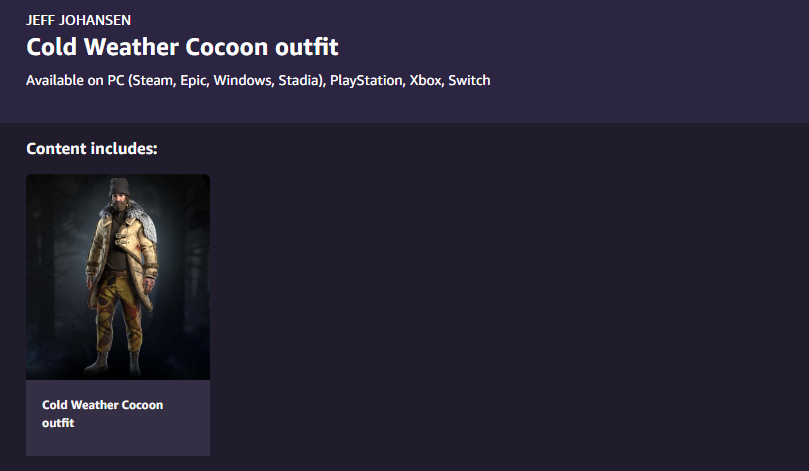 Amazon often give away fre DBD loot, this time it's Jeff Johansen's Cold Weather Cocoon outfit.
How do I redeem Dead by Daylight codes?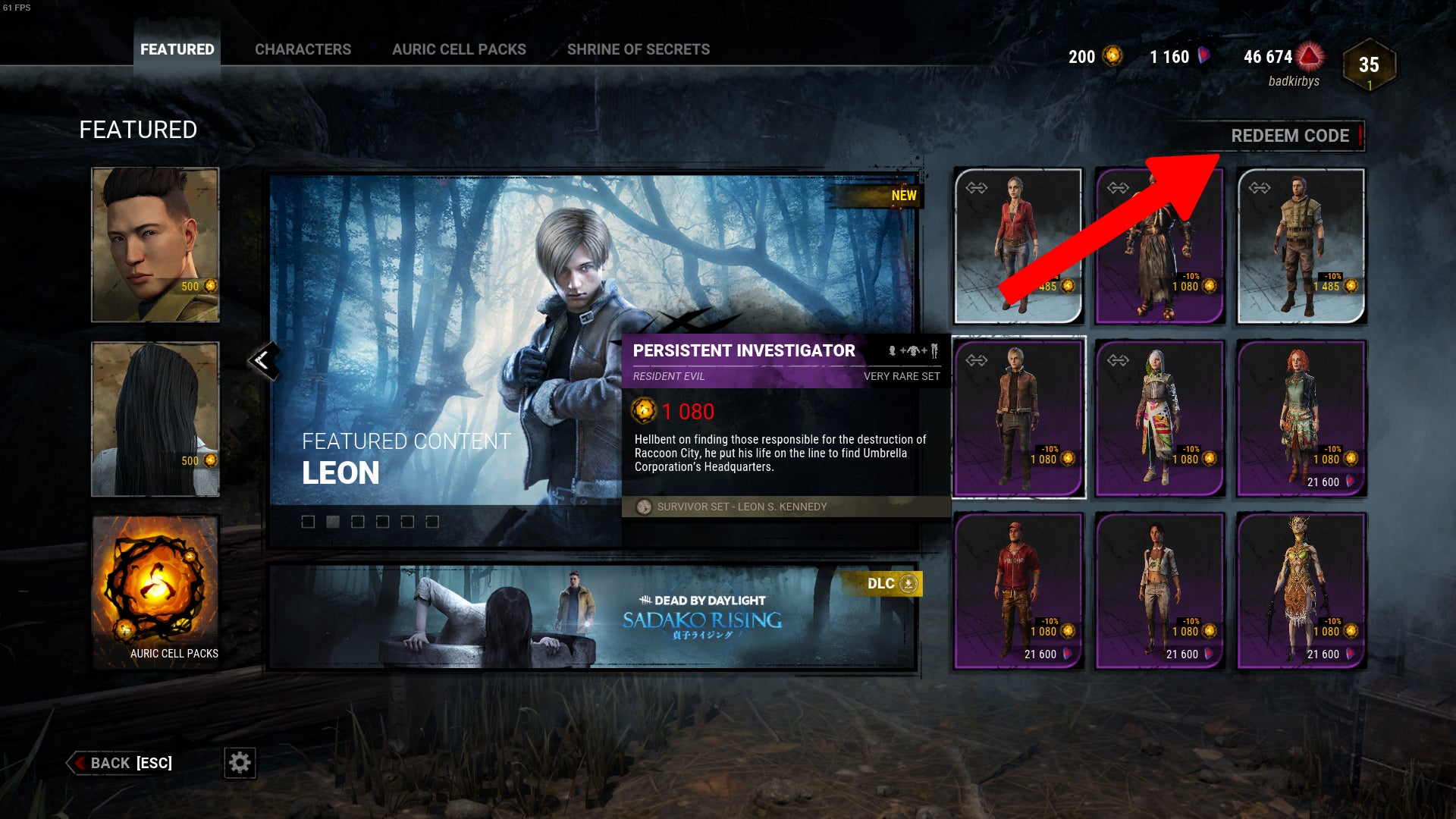 Here's how to redeem your DBD codes:
Launch the game.
Enter the main menu.
Open the in-game store.
You'll see an option to redeem codes in the top right corner.>
Click on that and enter your code.
Claim your rewards!
---
Want more gore? Don't forget to check-out our guide to the best horror games, it's even got DBD on it.